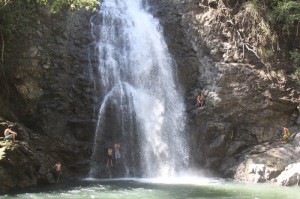 The most visited tourist destination in Montezuma, aside from the beach, is definitely the 1st waterfall which cascades over 80 feet to the pool below. To get there from downtown Montezuma, walk south toward Cabuya until you cross a bridge over the river. Just past the bridge and before the steep road up to Delicias, there is a trail that goes off to the right along the south side of the river. Take the trail. If you're driving, you can park in the waterfall parking lot for only 1000 Colones (about $2).
Shortly up the trail, you'll cross over some giant rocks. As soon as you do, it's time to cross the river carefully. Certain times of the year, the rocks are very slippery. After you cross the river, keep your eyes open for a trail leading up. This trail will take you most of the way until it slopes down again onto the side of the river. A short distance more, you'll see the waterfall.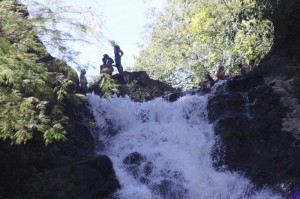 The first waterfall is usually bustling with activity, especially in high season, but even in the rainy season, there can be quite a few visitors. This is where most of the gringo deaths occur each year, usually guys who try climbing the rocks on the north side of the fall. There are signs in Spanish near the beginning of the trail that warn of the danger. Enjoy your swim here, but don't do anything stupid! After relaxing at the 1st for a while, there are a few ways to make your way to the 2nd and 3rd falls.
Read some very important information before visiting the waterfalls.
Here's the 1st waterfall spilling over, shot from the top of the 2nd.

The 1st from below.