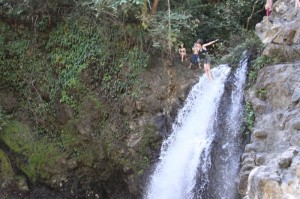 The 2nd waterfall is by far the most exhilarating drop in Montezuma that you can actually jump from safely (usually), and aside from the howler monkey urine that seems to drop from the sky once in a while on the trails to the 1st and 3rd waterfalls. Getting to number 2 requires a steep, difficult climb holding onto cords, vines and tree branches. Once there, you'll look down over the 2nd waterfall from the top. In order to see it from the bottom, you'll have to either jump or boulder down the sometimes slippery rocks on the northern part of the waterfall. If you choose to jump, there are 20, 30, 40, and 44 foot options – ish. Enjoy the freefall, but get pointers on how to land from a kind tico before you take the plunge.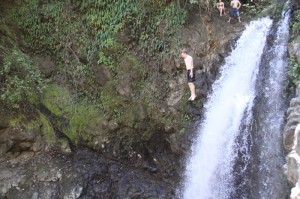 There have been people die here as well, mostly from landing wrong as you're not likely to hit rocks if you jump from the normal places (though it HAS happened). You don't want to land wrong. I once had a cousin who died jumping off a boat at 35 mph, and you're going much faster when you jump from here. Just earlier this season there was a death. Oh, and be careful of the current, especially in rainy season. Recently we saw a dog get caught in the current and swept over the 2nd. Fortunately this one landed ok, and probably had the ride of her life.
All this said, the 2nd waterfall is what many people remember most about visiting the Montezuma Waterfalls. Enjoy, but be careful.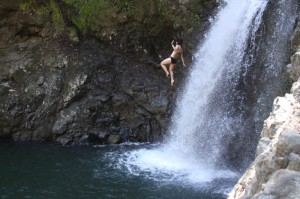 Read some important information before visiting the waterfalls.
Here's a video of the 2nd.

And a video from below.