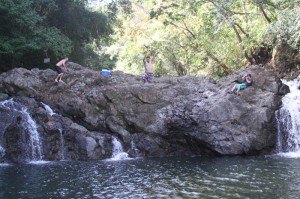 From the 1st, you can take the trail to the 2nd, then swim in the 3rd's swimming hole or scale up a bit of rock to get to the top. It's only about 15 feet to the top of the 3rd. You could also ask a tico where the trail goes up just north of the 1st. Or, the best option is to walk the steep, paved road (next to the parking area) up to just past the Butterfly Garden, and then take the dirt road to the right until you see the old jungle gym (yes, monkey bars in the middle of nowhere – apparently once used as a greenhouse).
Once at the jungle gym, take the only trail (it's on the left and sometimes difficult to find). Keep going straight on the trail and walk underneath or around the Sun Trails zip line stairs and then down until you get to the waterfall.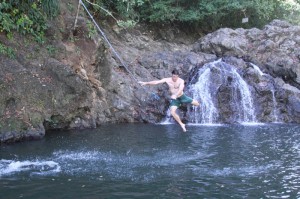 If you've got a family of good swimmers, this waterfall and its swimming hole below it are the best option for you. You can enjoy a long day swimming here, jumping off the rocks, creating dives off the rope swing, or slithering your way out onto the large tree branch and jumping or diving into the water. Just be a bit careful of the current. In the rainy season, after large storms especially, it can be VERY overpowering. If you've got small children or non-swimmers, it's best to hang out at the 1st waterfall. And definitely don't let them jump off the 2nd.
Here is some important information you may consider before visiting the waterfalls.
Here's a video of a tico on the rope swing at the 3rd waterfall.

And here's the rest of the 3rd.