Please read if you're planning to visit the waterfalls:
Visiting Costa Rica has its PERKS and its DANGERS. Most people who come here understand that NATURAL BEAUTY is the primary reason to come to Costa Rica. ADVENTURE tourism is the main source of tourism here. If you want culture, history, and museums, you're best going north to Nicaragua or south to Panama for your vacation. But if you want an ADVENTURE and BEAUTIFUL NATURAL SITES like WILDLIFE and WATERFALLS, then Costa Rica is where you need to go. That said, adventure tourism is often described as EXTREME tourism, and with EXTREME tourism inevitably comes DANGER.
Please understand that PEOPLE and PETS have DIED walking to, playing on and around, and jumping from these waterfalls. It is DANGEROUS, and the danger increases at certain times of the year, during rain, and for a full day or two AFTER major rain storms.
That said, people have visited the falls and experienced the EXCITEMENT and FUN SAFELY for many years.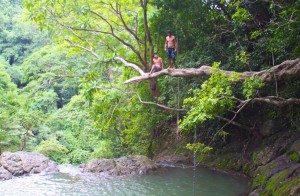 Here are a FEW RULES you should follow to ensure your SAFETY at the falls:
1. Don't be cocky. People trying to look or be cool here are usually the ones who DIE.
2. Don't do anything the TICOS don't do. In fact, even if you see them doing it one day, that does NOT mean they will do it the next. Ticos understand how the danger changes from day to day and season to season. YOU don't.
3. If you aren't sure, ASK a Tico. Ticos (Costa Ricans) are about the KINDEST people on earth. Talk to them.